When is Wedding Season
You probably hear a lot about wedding season, but when is wedding season anyway—and what  do you need to do to make sure that you stay looking your absolute best from first dance to last toast?
Wedding season refers to the most popular time to get married. And we're right at the start of it! Late summer and early fall are when wedding season is in full force, with more couples choosing to tie the knot now than at any other time of the year. It's easy to understand why: summer travels are slowing down, the weather is cooling off, and guests are ready to put on their suits and heels and have a good time.
For brides and grooms, choosing the right dry cleaners for wedding season is just as important as choosing the right planner and the right venue. So as we prepare to kick off the season of love, make sure that you have a plan in place for keeping your wedding garments pristine and protected.
Why Dry Clean for Wedding Season?
The answer to "why dry clean?" when it comes to wedding garments is three-fold:
Professional dry cleaners are experts at cleaning, altering, and preserving expensive and sentimental clothing, including

wedding dresses

,

suits, and tuxes.
Professional dry cleaners also have plenty of tricks up their sleeve that ensure wedding garments get taken care of safely and correctly.
It's something easy to check off your wedding to do list! And if you're like most soon-to-be-married couples, you know how great it feels to have something taken care of and ready to go.
Ultimately, there are a lot of things that you can DIY for your wedding—from floral centerpieces to place cards to the dessert table. But the same can't be said for cleaning your wedding garments. Make sure that you partner up with a reliable dry cleaners before your big day so that when the time comes for alterations and cleaning you know exactly who you can go to.
Benefits of Dry Cleaning a Wedding Dress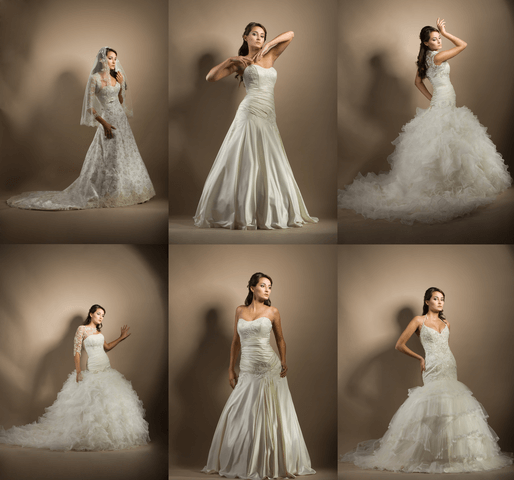 Weddings dresses weren't made to go through your standard wash and dry cycle, which is why the benefits of dry cleaning a wedding dress are so crucial. Even the most simple looking dresses have complex design features that require a delicate touch and alternate cleaning methods. With dry cleaning, you ensure that your gown maintains its integrity after your wedding, including protecting any lace, beadwork, sequins, or other unique detailing.
So what can dry cleaning a wedding dress do for you? In addition to getting your dress ready for preservation (which, by the way, your dry cleaner can do too!), a professional dry cleaning will eliminate stains and odors, prevent discoloration, and keep the fabric of your dress intact. And that's key, since you should be able to enjoy yourself to your fullest on your wedding day without worrying that a spill, stain, or tear will ruin your dress forever.
Wedding Dress Cleaning at Cameo Cleaners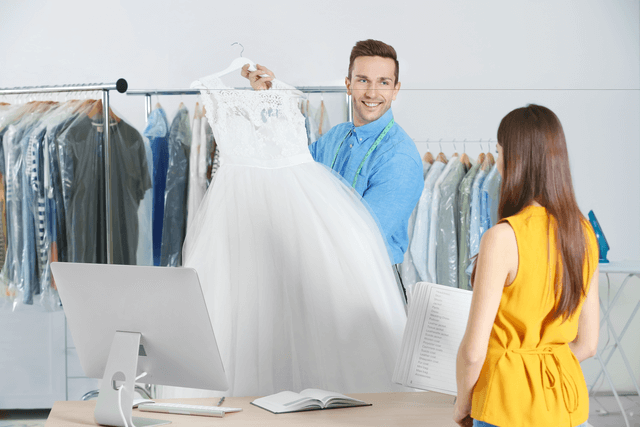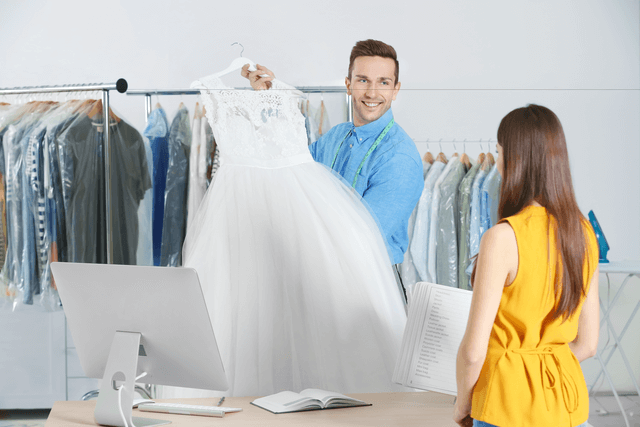 At Cameo Cleaners, we've been taking expert care of our clients' wedding dresses for more than 50 years. Our team of dry cleaning professionals can take on all of your dry cleaning needs, including getting you through this year's wedding season. Whether you're a bride or groom who needs their wedding garments altered, cleaned, and/or preserved, or a guest who wants to get more than one use out of a dress, suit, or tuxedo, we can help you out quickly and efficiently.
We're always accepting new clients. Arrange for a pick-up today or stop in and visit us. We'll be happy to help you get through wedding season in style!